Company, Trust, Partnership & SMSF Financial Statements & Tax Preparation

BAS/IAS Returns, Payroll Tax, Fringe Benefits Tax & all other compliance

Business Structuring

Tax Planning each year to minimize tax

Team of Chartered Accountants

Quality Affordable Advice

Friendly & Knowledgeable Team

100% Online Option Available

Priority Option Available

Quality Firm & Modern Technology

Focus on YOUR Long Term Goals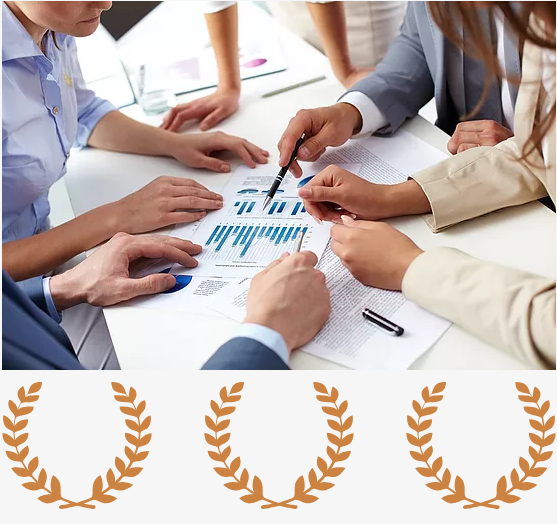 Business Accountants for Life!
We are your business accountants for Life! Our team of Chartered Accountants are available at your disposal to ensure you are always making sound business decisions. You will benefit from using our service because we are not a quick Tax Service Shop. Our focus is YOUR LONG TERM GOALS. Our strategy is quite simple – if we continue to help our clients grow, we will grow as well!
Our team is suitably experienced to handle all tasks. Some of our services include Preparation of Financial Statements, Preparation of Company Tax Returns, Partnership Tax Returns, Trust Tax Returns, SMSF Tax Returns. Apart from this, we also provide services in the area of Business Budgeting, Cash Flow Analysis, Tax Planning, KPI Management, Business Improvement Services, Cost Reduction Analysis, FBT and Payroll Compliance and ATO & ASIC Secretarial Services. No task is too big!
We do not believe in short term relationships. If you decide to engage our team, you can expect a hands on approach. We do not mind you calling us when making any major financial decisions. The more questions you ask, the better. Likewise we will also try to know as much about you as possible to make sure we deliver the best strategies possible.
Our biggest advantage is our Customer Service which we feel is as much important as the technical skills. Gone are the days when Accountants could get away with not responding to their clients. The world is changing! We want to learn what you are up to in your business and ensure that we empower you with a team that is technically sound and can help you build your LEGACY!

PROACTIVE ACCOUNTING, CUTTING EDGE TECHNOLOGY, FRIENDLY SERVICE, BUSINESS GROWTH
Are you are tired of not getting a personal touch from your accountant? Never get through to them? Need personalized advice for your business? Take us up for a challenge.
We hear this every single day. People who do join us are pleasantly surprised most times as to how friendly we are. We care about you and your business. Our customer service game is as strong as our technical skills.
Our team is qualified and our focus is to ensure that after every conversation with our team, you should feel more knowledgeable and empowered. That is why you pay us! If you do not understand something, ask us again.
Sign our Engagement Letter (if applicable).
Provide us the business information via Email/Post.
Provide us access to your account records (Accounting Software, Excel, Bank Statements & Receipts).
We prepare the required documentation and get in touch with queries or finalized documents to sign.
We email documents to you for electronic signature. Once you sign online, we automatically receive them back.
Pay our invoice at the time of signing of document. Once full payment received, we lodge the documents with ATO.
Please note that once we receive the information, our team will start working on what is required. We may come back to you with queries. If everything is in order, we will email you a draft copy of your returns. We can have a detailed chat to see if you would like to understand something better. 
Either way, we will ensure that we will not finalise your return until we are sure that we have included all the relevant information in your financial statements or tax returns and cleared all your queries.
We encourage you to have a tax planning session each year. You can do it as frequently as you like.
Our team has experience in a range of accounting software providers including Xero (Certified), MYOB (Certified), QuickBooks (Certified), Saasu, Cash Flow Manager, etc.
For us, you are as important as any other client. Every time we look at your business, we try to identify opportunities – for tax planning, growth, profitability and all other aspects. Our aim is to help your business thrive, not just do the end of the year accounts.
We almost always find ourselves to be the Trusted Advisors. If you have any accounting, tax, finance or legal related matter then you can get in touch with us. Even if we cannot help you at times, we can always point you in the right direction or find you someone who can help you within our network.